Protective Behaviours
At Mappleborough Green we follow a whole school programme that aims to equip children with the tools to keep them safe. Protective Behaviours is a practical approach to personal safety, self-esteem, resilience and confidence building. This is introduced in every class at the beginning of the school year and regularly revisited throughout the year.
The programme starts from the positive of recognising when we feel safe and teaches the ability to recognise when we are not feeling safe, it also provides skills and tools to enable individuals to take action and get help when they need it. Protective Behaviours recognises that life is also about taking risks and trying new things and that this is part of our development and an important life skill.
Protective Behaviours is based on two themes, which are used to teach and reinforce the basic concepts on which the process is based.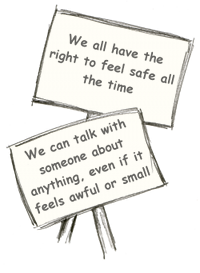 We all have the right to feel safe all the time
We carefully look at the connection between rights and responsibilities. We explore feeling safe and the recognition of Early Warning Signs.
We can talk with someone about anything even if feels awful or small
This theme focuses on the ideas and effects of 'talking' and what might happen if we don't. We encourage everyone to develop their own personal networks of support, those people they could turn to if in need.
We all have the right to feel safe all of the time Safe and Unsafe Secrets
Practical Advice for Keeping Safe Let's Talk Booklet NSPCC PANTS ADVICE Protective Behaviour Overview